The Big Shake-Up review – live at Pizza Express, Soho
Written By: Ross Anderson Comments: 0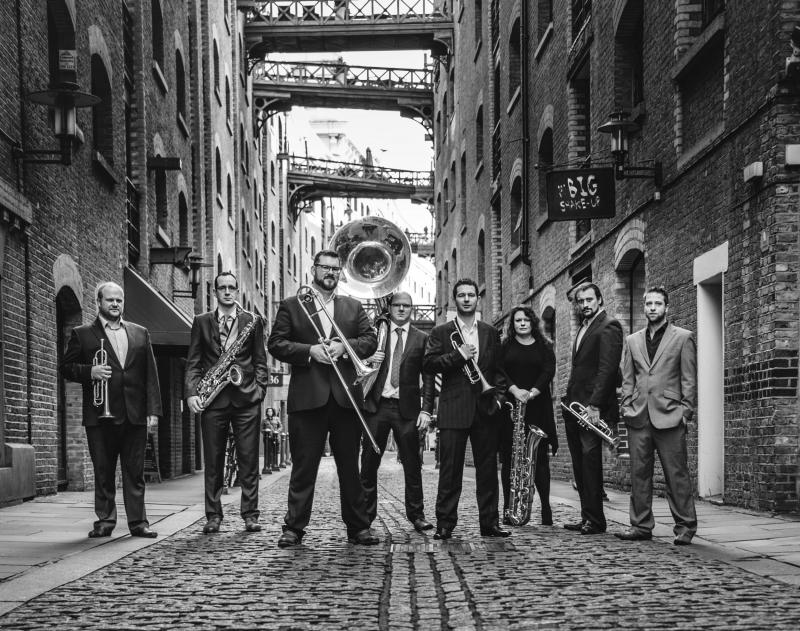 Sunday 5th March, 1.30pm.
The Big Shake-Up live at Pizza Express (Soho).
With a rousing opening, reminiscent of an old school blues-y trombone The Big Shake-Up's gig at Soho's Pizza Express kicked off with a bang.  Front man, Jon Stoke's tune, The Snag, set the tone for what was an amazing show. With tunes written by the likes of Russell Bennett, Dave O'Higgins, Gavin Broom and Callum Au, every player was given a moment in the spotlight.
From the stratospheric high notes of Jean-Paul Gervasoni to the low rumblings of Mike Poyser on sousaphone, each member brings their own sounds and ideas to the group; offering a very unique blend.  The group, formerly known as Bad Ass Brass, are Jon Stokes (trombone), Jean-Paul Gervasoni, Paul Munday & Gavin Broom (trumpets), Sam Bullard & Gemma Moore (saxophones), Mike Poyser (sousaphone) and Jimmy Norden (drums). For this gig George Hogg joined the trumpet section, replacing Gavin Broom.
Highlights from their latest release included Don't Block the Box – a 7/8 Funk inspired piece, complete with cool dissonant harmony, Bhangra and Mash – with inspiration taken from Indian Bhangra music with an added modern twist and God Bless the Child featuring the amazing soulful vocals of Sharleen Linton.
Excellently compared by Jon, the gig had a relaxed and intimate feel to it, even when the band were not playing. This, alongside the amazing music, made it a thoroughly enjoyable experience. 
If these guys come to a venue near you – go and see them. I promise you won't be disappointed.
Ross Anderson
---
Join The Big Shake-Up for their next event Saturday 18th March,  9.30pm at Matt and Phred's in Manchester. For more details, please visit http://www.mattandphreds.com/diary/big-shake-0
Share this article