Interview with Ruth Molins
Comments: 0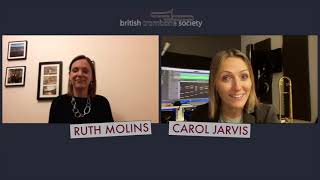 Continuing our 2021 Series of interviews with prominent trombonist, Carol Jarvis interviews Ruth Molins in the second of our  broadcasts.
The Premiere takes place at 14:00 on 17th February 2021 with a simultaneous launch on our YouTube Channel, FaceBook Pages and Website.
Ruth enjoys a varied career as a busy freelance trombonist and works with most of the leading professional orchestras including the London Symphony Orchestra, London Philharmonic Orchestra, Royal Philharmonic Orchestra, the BBC Orchestras, City of London Sinfonia and London Chamber Orchestra. Ruth is regularly involved in education and outreach projects with the LSO Discovery Department and with the City of London Sinfonia. In addition to teaching at the Royal College of Music Junior Department, Ruth enjoys her role as a trombone teacher and ensemble director at the Haberdashers' Aske's School for Girls in Hertfordshire.
Watch this space.
Click here to go to the Resources Page.
Share this article