Michael Marshall In Conversation With Bobby Lamb
Comments: 0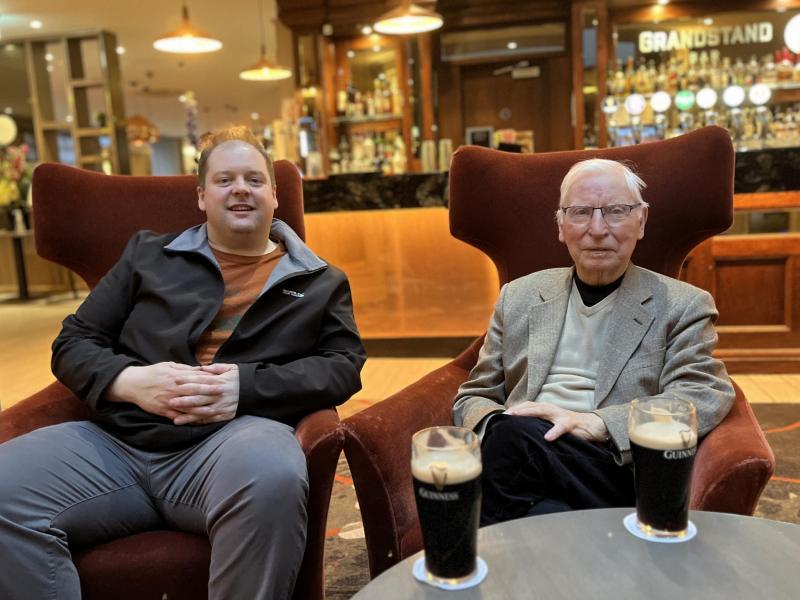 New to our Video Channel.
Coinciding with International Trombone Week 2023, on 19 April, Michael Marshall, second trombone with the RTE Concert Orchestra, Dublin, recorded Bobby Lamb's Concerto for Trombone and Violin, to be broadcast later in the year on Ireland's National Classical Radio Station "Lyric FM" as part of RTE's annual New Music Week, this edition of which focuses on Irish composers of all genres.
Michael writes, 'Bobby wrote this concerto, entitled "Conversations," many years ago and the RTECO hired Paul Campbell pre-Covid to reconstruct it from Bobby's original handwritten score. Paul has done an absolutely fantastic job. "Conversations" is an interesting piece about a lowlife jazz trombonist who meets a pretty, virtuosic Classical violinist.'
Taking a break from rehearsals in late March, Michael sat down for a chat with Bobby. Watch their conversation on our video channel [Resources/BTS Video Channel].
Now aged 92, Bobby will be best known to many as Director of Jazz Studies at Trinity College of Music from 1982 to 2007 but he first moved to London from Ireland in 1952 to work with the bands of Teddy Foster and Jack Parnell. A three-year stint in the U.S. followed playing with Charlie Barnet, Stan Kenton and Woody Herman before Bobby returned to the UK to join the BBC Show Band. Over the following two decades Bobby worked with, amongst many others, Geraldo, the BBC Radio Orchestra, as well as co-leading an orchestra with Ray Premru and frequently touring Europe and the Middle East with the likes of Frank Sinatra, Ella Fitzgerald, Peggy Lee and Buddy Rich. Alongside performing, Bobby developed a considerable reputation as a composer and conductor, winning an Ivor Novello Award for his 1970 composition The Children of Lir.
Share this article