Bones Apart UK tour
Written By: David Read Comments: 0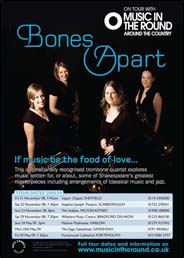 Music in the Round has included Bones Apart in its roster of eight top chamber ensembles touring the UK this season which also includes the Belcea Quartet and Cropper/Welsh/Roscoe Trio.
Their concerts start this weekend with recitals in Sheffield, Scarborough, Milton Keynes and next weekend in Bradford-on-Avon. Next May they will be in Harlow, Gateshead and Portsmouth.
Their programme "If Music Be the Food of Love" explores music written for, or about, some of Shakespeare's greatest masterpieces, including:
Debussy Musique pour le Roi Lear
Jason Carr Poem Unlimited
Gounod Overture to Romeo & Juliet
Bernstein West Side Story
Gary Carpenter Secret Love Songs
Mendelssohn Suite from A Midsummer Night's Dream
Duke Ellington Such Sweet Thunder
Full information at http://www.musicintheround.co.uk.
Share this article