BTS at the Royal Academy of Music
Written By: Learmonth Comments: 0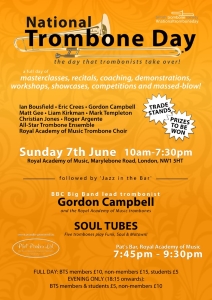 NO ADVANCED BOOKING NEEDED, JUST TURN UP ON THE DAY WITH YOUR TROMBONE AND ENJOY THE DAY.
On the 7th of June 2015, the BTS will be hosting a day at the Royal Academy of Music. The day promises to display some of the finest talent the UK has to offer as we hear solo recitals from Mark Templeton and a joint concert between Ian Bousfield and the Royal Academy of Music's very own trombone department.
Players will also have a chance to experience some of the finest teaching in the country as Matthew Gee takes a public masterclass. As if this wasn't enough, you can sit back and listen to the up and coming stars of the future as we introduce not one but two brand new competitions, the BTS Quartet Competition and the Ian Bousfield Solo Competition. To round off the day there will be an early evening concert, celebrating the works of Eric Crees as we feature the music from the highly acclaimed London Trombone Sound.
For those of you who wish to stay a bit later, the electrifying new collective 'Soul Tubes' will be performing in the Royal Academy of Music's bar. We hope to see as many of you there as possible – it is a day not to be missed!
Prices are as follows:
Members £10
Non-members £15
Students £5
10.30 - Registration
11-12 - Introduction and Warm-up
12-12.25 - Mark Templeton Recital
12.25-12.45 - BREAK
12.45-1.30 - Commercial workshop
1.30-2.15 - LUNCH
2.15-3.30 - Ian Bousfield + RAM trombone choir concert and presentation of the solo and 4tet awards
3.30-4.50 - Masterclass with Matt Gee
3.45-4.45 - Workshop with Gordon Campbell
5.00-6.00 - Massed blow
6.15-7.30 - Eric Crees and intercollegiate trombone play London Trombone sound. Plus a performance from an "all-star" trombone ensemble featuring the guest artists from the day
7.30 - onwards 'Jazz in the Bar'
7.45-8.30 - Gordon Campbell and the RAM trombones
8.45-9.30 - Soul Tubes
For the full flyer, click here
Share this article