Death of Nat Peck
Comments: 0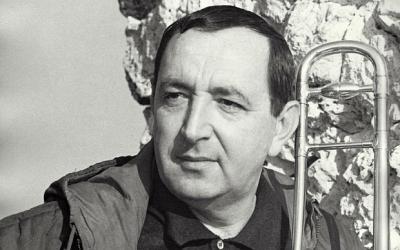 Nat Peck, the trombonist, who has died aged 90, was the youngest, and last surviving, member of Glenn Miller's Army Air Force Orchestra, which was based in England during the closing stages of the Second World War; in his later career Peck played and recorded with many of the greatest names in jazz, as well as being a valued studio musician in Britain and Europe.
Nathan Peck was born in Brooklyn, New York, on January 13 1925, the son of a cinema projectionist. Despite receiving no encouragement, he took up the trombone as a teenager.
On leaving high school and receiving his draft papers, he wrote to Glenn Miller, volunteering for a place in his band. To his surprise and delight he found himself posted to Miller's base in New Haven and, in June 1944, on a ship bound for Liverpool.
"We had been told that the war was practically over," he recalled half a century later. "But when we got to London there were these doodle-bugs (V1 flying bombs) falling out of the sky all over. Gee, thanks, Captain Miller!"
In December, after many shows and BBC broadcasts, the band was scheduled to move to newly liberated Paris. Miller flew on ahead but never arrived, his plane having gone missing over the Channel. The band continued under the leadership of the drummer, Ray McKinley, and Peck remained with it until the war's end.
McKinley formed his own band after the war, closely following the Miller formula, and Peck played in it for a while. "But I couldn't see myself spending years playing American Patrol and Moonlight Serenade. I had to make a change."
Nat Peck, on far left, with his fellow Glenn Miller Orchestra trombonists
As an ex-serviceman, he was entitled to an extended period of free education, under the "GI Bill of Rights" and he chose to study music at the Paris Conservatoire between 1949 and 1951. Post-war Paris was then the European capital of jazz, and he played and recorded there with Dizzy Gillespie, Coleman Hawkins, Roy Eldridge and Rex Stewart. He described his life then as a "Jekyll and Hyde existence – by day a serious classical music student and at night in all the bebop joints in Paris."
By now a confirmed Francophile, he moved back and forth between New York and Paris until, in 1957, he married the dancer Vera Tietz and made his marital home in France. He played for the Paris opening of West Side Story and for Josephine Baker's final appearance, and worked with Quincy Jones, Michel Legrand and Duke Ellington. In the summer he was usually to be found at the Sea Club in Monte Carlo, accompanying the stars who performed there.
Peck also played with the orchestras of several German radio stations, notably SFB in Berlin and NDR in Hamburg, and between 1963 and 1969 he was a member of the remarkable pan-European Clarke-Boland Big Band.
Composed of leading European jazz musicians and American ex-patriates, this was one of the world's finest jazz orchestras, combining originality with technical brilliance.
In 1965 Peck moved to London, which was by then the leading centre for film and television recording. At first he was involved purely as a player, but gradually he began acting as an orchestral contractor, booking musicians for recording sessions. Eventually he decided to give up playing.
He would miss it, he said, but brass instruments were stern masters and they demanded daily practice. "You can't go on vacation and leave the instrument at home. If you do, you won't be able to play to any kind of standard when you get back. It's like a life sentence. That's something I won't miss."
His long experience, international connections, linguistic skills and the mere fact that he was known and liked by everybody, made him the ideal man for the job of contractor. He worked on countless feature films and popular television shows, from the James Bond films to The Two Ronnies.
At the end of a long international career, he took British citizenship in 2012.
Nat Peck is survived by his wife and two daughters.
Nat Peck, born January 13 1925, died October 24 2015
Share this article