Interview with Kris Garfitt
Comments: 0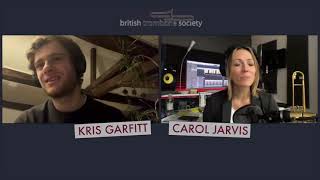 We are super excited to announce our third interview with trombonist Kris Garfitt, hosted by Carol Jarvis on the 24th of February 14:00!
Kris Garfitt is an Antoine Courtois Performing Artist, Solo Trombonist of the WDR Symphony Orchestra, Gold Medal winner of the 2019 Royal Overseas League Music Competition in London and first prize winner of the 2019 Jeju International Music Competition, 2018 International Tenor and Bass Trombone Competition in Budapest, the 2018 International Juozas Pakalnis Competition of Wind and Percussion Instruments in Vilnius and the 2019 International IPV Trombone Competition in Germany. Kris is also second prizewinner of the Competition Concorso Internazionale "Città di Porcia" and the International Trombone Competition of Alsace.
Alongside his orchestral career, Kris also manages to navigate a busy schedule as a solo musician. He has performed as a soloist with orchestras on numerous occasions, with professional ensembles such as the Vilnius City Chamber Orchestra, the Budapest Strings Chamber Orchestra, Jeju Philharmonic Orchestra, Orchestra Di Padova e del Veneto and Luxembourg Military Orchestra and has performed concertos by ‪Nino Rota‬, Henri Tomasi, Lars-Erik Larsson, Christopher Rouse, ‪Vladimir Cosma‬ and Gyula Fekete and a sonata by Benedetto Marcello. Shortly after winning his job in 2016, Kris experienced increased interest and love of the trombone's wonderful solo literature, leading him to start a duo with the exceptional Korean pianist, Seri Dan. Together they perform regular concerts throughout Germany and worldwide. They are also planning to release their first album in 2021.
ᴡᴏɴᴅᴇʀɪɴɢ ʜᴏᴡ ʏᴏᴜ ᴡɪʟʟ ʙᴇ ᴀʙʟᴇ ᴛᴏ ᴡᴀᴛᴄʜ ᴛʜɪꜱ?
Part I of this interview will be available on our Facebook wall page and on our YouTube channel: Click here to access. Part II is available to BTS members only, Click here to go to the Resources Page.
This interview was produced remotely by Matthew Gee and Jane Olivia Salmon for the British Trombone Society.
Share this article