Midland man wins in Salford
Written By: David Read Comments: 0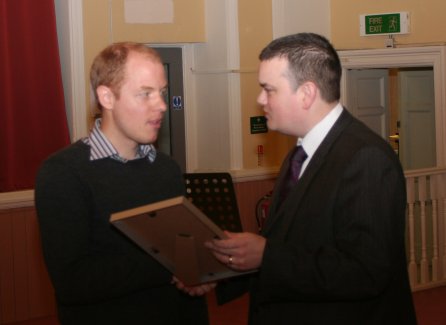 Stephen Lomas won the BTS Trombone Soloist 2009 at last Sunday's contest at the University of Salford.
 
Richard Leonard, Joe Sharples, Stephen Lomas and Rosie Johnson all gave outstanding performances at this annual contest that saw a number of entrants pull out at the last minute.  However this by no means diminished the competition with all performers playing with great technique and musicianship.
 
Adjudicator Neil Samuel picked out Midlands man Stephen for his performance of "Variations on a Welsh Theme" with its technical challenges, outstanding musicianship and truly wonderful dynamic contrast.  Stephen will now go on to perform around the country at BTS events.
Thanks go also to the trombone quartet of the world famous Brighouse and Rastrick Band who performed an insightful programme of chamber music between the contest and the awards presentation. 
It was a really enjoyable day.  Next year's event will take place at a slightly different time of year and I hope this attracts even more players. Trombonists, watch this space for announcements.

Gareth Westwood, BTS (Northwest)
Share this article