On This International Women's Day
Comments: 0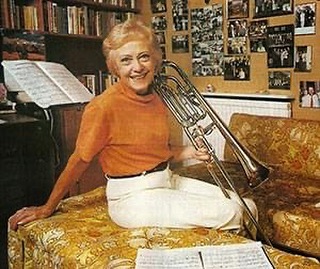 "International Women's Day celebrates the social, economic, cultural, and political achievements of women while also calling attention to the ongoing fight for gender equality.
International Women's Day first began in 1911 - now over 100 years later, the day has evolved into a global movement that highlights the progress that has been made in the fight for gender equality, whilst simultaneously acknowledging the work that still needs to be done. On this day, we take a moment to recognize the contributions of women from all walks of life and to reaffirm our commitment to creating a more just and equitable world for all."
The British Trombone Society Sheila Tracy Award is nominated annually by members of the society. It is there to showcase important women who make a difference, are leaders of their craft, and are also role models for young players! "Shelia Tracy first found fame as part of the musical duo The Tracy Sisters before becoming a TV announcer. She joined Radio 4 in 1974 and moved to Radio 2 three years later, gaining a cult following with her overnight Trucker's Hour in the early 1980s. She went on to spend 21 years as the voice of Radio 2's Big Band Special."
We feel our recent recipient Emily White sums up beautifully. 'I work abroad for some of my years, and though I often feel we have things to learn from our European colleagues, we can be justly proud of our long history of leading the way in respect for female trombonists. It's a powerful thing to not only award a female player with the Sheila Tracy Award but not just to ghetto-ise the women from other awards. It is so heart-warming to see Helen Vollam as Player of the Year.'
Remember also that yes today is International Women's Day but in this month of March we celebrate Women's History a real chance to learn and educate ourselves.
Share this article