Royal Conservatoire The Hague - Auditions 2016
Comments: 0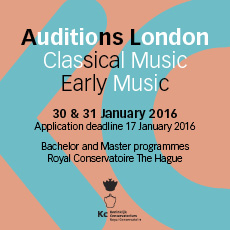 On 30th and  31st January 2016 the Royal Conservatoire The Hague will travel to London where it will organise auditions for its bachelor and master Classical and Early Music programmes. The deadline for applications is 17 January.
Click here to download the Press Release.
Click here to find out more about the Royal Conservatoire, The Hague, Nederlands.
Share this article