Trombone & Euphonium Workshop with Bones Apart
Written By: Geoff Wolmark Comments: 0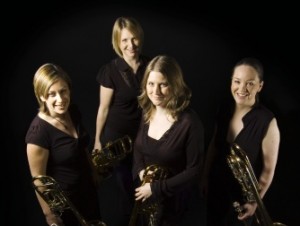 On Sunday 3 March 2013 all trombone players are invited to join Bones Apart for a truly unique day of trombone playing.Open to trombone and euphonium players of all ages from grade 1 to diploma.
Meet and play with Bones Apart
Performances by Bones Apart
Trombone ensembles
Workshops for all abilities
Trade stands
End of day concert for family and friends
Venue: Sawston Village College, New Road, Sawston, Cambridge CB22 3BP
Programme
09:30 Registration
10:00 Start
17:00 Concert
18:00 Finish
Fee: £45
BonesApart members - Becky Smith, Jayne Murrill, Helen Vollam and Lorna McDonald - are committed to raising the profileof the trombone as a chamber music instrument by demonstratingits versatility. They have travelled widely throughout Europe and the USA working with players of all abilities presenting masterclasses at universities and music colleges. Formed in 1999, the all-female trombone quartet Bones Apart has quickly established itself as one of the world's leading young chamber ensembles. Winners of the prestigious Royal Over-Seas League Competition, Rio Tinto Ensemble Prize and Miller Trophy, Bones Apart have performed at major UK venues including London's Wigmore Hall, Queen Elizabeth Hall, Royal Festival Hall, Fairfield Halls, St. Martin-in-the-Fields and St. James's Palace. Bones Apart have recorded a number of CDs - Enigma (2006), four4four (2009), and their special tenth anniversary CD ten has received great reviews.
For further information and bookings, please contact the ACE Foundation (Tel. 01223 845599).
Share this article